American Folk Songs:
Enduring the Test of Time
Many American folk songs remain ever popular today. Teaching these tunes to our young children and grandchildren is akin to exposing them to great classical literature.
American folk music weaves a story throughout the verses using a catchy tune to cement that story into the memory.
Great periods of our U.S.A. history are captured in these classic tunes. Following are a few highlights of American folk songs. How many tunes can you sing just by reading the titles?


Shenandoah (1837)
Shenandoah was a type of sea chantey used during the riverboat era of the U.S.A.
A sea chantey is a popular melody, usually sung as a capstan chantey, where sailors push the capstan bars around to lift the ship's anchor. This was very popular in the areas of the Mississippi and Missouri Rivers.

Buffalo Gals (1844)
This song was composed by an early Black-Faced Minstrel. It had many titles. It was eventually combined into a song hit called "Dance With a Dolly."

Blue-Tail Fly (1848)
An American Negro Plantation Song, it also became known as Jimmy Crack Corn, which came from part of the lyrics.

Oh, Suzanna (1848)
This tune was composed by Stephen Foster when he was only 20 years old.

Swing Low Sweet Chariot (1847)
This song was perhaps written in 1847 by a black lady who was sold into slavery. Following is a version sung by Johnny Cash and what he heard about the song's origin:





My Old Kentucky Home (1854)
Composed by Stephen Foster

She'll Be Comin' 'Round the Mountain (1870)
This American folk tune was also a railroad song.


Home On the Range
Originally written in 1873 by Kansas homesteaders. In 1947, it became the official state song of Kansas.

Carry Me Back To Old Virginny (1878)
Written by a black man, James Bland, who was born in New York.




I've Been Working On The Railroad (1881)
This popular American folk tune originated in the South. Some think it is of negro origin.



You're a Grand Old Flag (1906)
This patriotic classic was composed by George M. Cohan, who was a great performing showman.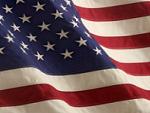 Go from American Folk Songs to American Folk Music

Americana Music And Memories Home