Works Progress Administration:
What the WPA was Known For
The Works Progress Administration was a part of Franklin Delano Roosevelt's New Deal Package. His policies brought a lot of change to the American climate during the Depression years.
The W.P.A. organization, as it was called, was created to supply jobs for the unemployed.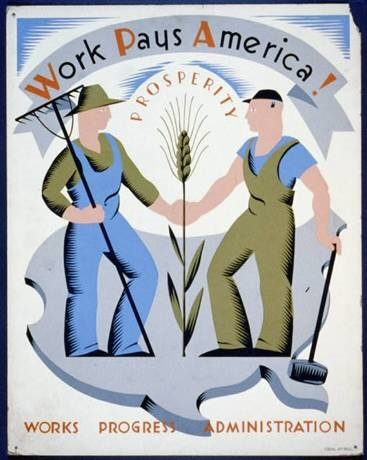 These workers labored (or lazed, depending on who you talked to) with basic pick and shovel work. Click here for more about the W.P.A. worker's job description. I'm sure not all the workers on these projects were guilty of "freeloading" - pretending to work and getting paid taxpayer money for it - but some certainly were.
The newspapers quickly picked up on the sentiment surrounding the W.P.A. and often ran one - picture cartoons of this phenomenon, as if it were a daily occurrence.

Works Progress Administration
Stories and Anecdotes
My dad, who was born in the late 1890's, was a school teacher and administrator, a very conservative man who didn't always see eye to eye with FDR and the New Deal policies.
He loved to tell the following story of his own personal experience regarding the sighting of a W.P.A. worker: He actually saw a Works Progress Administration worker leaning on, not one, but TWO shovels!!

I didn't doubt his story then, and I don't now!
My dad also collected stories and anecdotes about the W.P.A. system, just as he collected any story that was humorous. A typical W.P.A. story follows:
---
A motorist honored the stop sign preceding a curve in the road, in which you couldn't see the end of the curve. A W.P.A. worker was there to advise the motorists - but he had laryngitis and had to speak in a raspy whisper.
He said: "Be careful, there's W.P.A.workers around the bend."

The motorist spoke back to the man, using the same raspy, whispering, voice - "Don't worry - I WON'T WAKE 'EM UP!!"

---
Go from Works Progress Administration to Roosevelts New Deal

World War I Music Humor

Americana Music and Memories Home