Burma Shave Slogans
Burma Shave slogans were classic roadside americana advertising. The shaving cream company posted witty verse along the highway berms to create laughter - in the hopes that people would loosen their purse strings and buy the product.

My parents and I used to take trips to various states to see the historical sights and buildings. Across the country as well as in our home state in the Midwest, BURMA SHAVE SLOGANS would be spotted. There would be 5 or 6 in a series on the passenger side of the road, but fully visible to the driver as well.
---
Placed upon wooden poles, the signs were spaced apart just right, to make a series of words into a message.
The signs were about 8 inches wide, always bright red with white letters. You couldn't possibly miss them!
---
Burma Shave Jingles
I've seen a book containing Burma Shave jingles just once in my lifetime, but I'm not sure how much advertising history was included.

Following is what I recall about the signs. To begin with, the older messages had strictly to do with shaving and grooming, while the later messages tended towards dry wit and humorous puns.

These Burma Shave ads remained in vogue for many, many years.

Why not grab a pretzel and some lemonade and see what some of these old and unique ads had to say!
Early Burma Shave Ads
He had the ring,
he had the flat-
She felt his chin
and that was that!
BURMA SHAVE
(A flat means an apartment)
He played the SAX
had no B.O.-
But his whiskers scratched
So she let him go.
BURMA-SHAVE
(B.O.= Body Odor)
Harry the Eighth
Prince of Friskers
Lost 9 wives
but kept his whiskers
BURMA-SHAVE

Later Slogans
Proper distance
to him was bunk
They pulled him out
of some guy's trunk!
BURMA SHAVE
Drinking drivers-
nothing worse;
They put the QUART
before the HEARSE
BURMA-SHAVE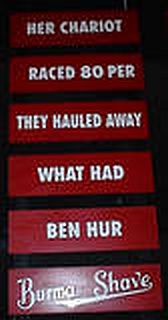 Go from Burma Shave Slogans to Burma Shave Sign History

Top Picks - Burma Shave Ads

Shaving Charades

Traffic Ticklers

Americana Music and Memories Home