Burma Shave:
Laugh Out Loud!
Burma Shave was a very popular shaving product in the early to mid 1900s in America. The product is best known for its advertising campaign, however. You can read more about the sign history here.

These ads were prominently posted in sequential order along the highways and byways of America. Most folks back then didn't drive so fast - so they could read them!

In the earlier days of the ad campaign, most of the signs had directly to do with the benefits of using these marvelous facial products - the smooth, inviting skin meant success in romance - but the opposite was also true!

Here are some samples of the early Burma Shave jingles: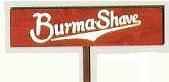 "I USE IT, TOO"
THE BALD MAN SAID:
IT KEEPS MY FACE
JUST LIKE MY HEAD

IF YOU DON'T KNOW
WHOSE SIGNS THESE ARE
YOU CAN'T HAVE DRIVEN
VERY FAR


WITHIN THIS VALE
OF TOIL AND SIN
YOUR HEAD GOES BALD
BUT NOT YOUR CHIN

GRANDPA'S WHISKERS
STIFF AND COURSE
THAT'S WHAT CAUSED
HIS 5TH DIVORCE

THE HOBO LETS HIS
WHISKERS SPROUT
IT'S TRAINS---NOT GIRLS
THAT HE TAKES OUT
BURMA SHAVE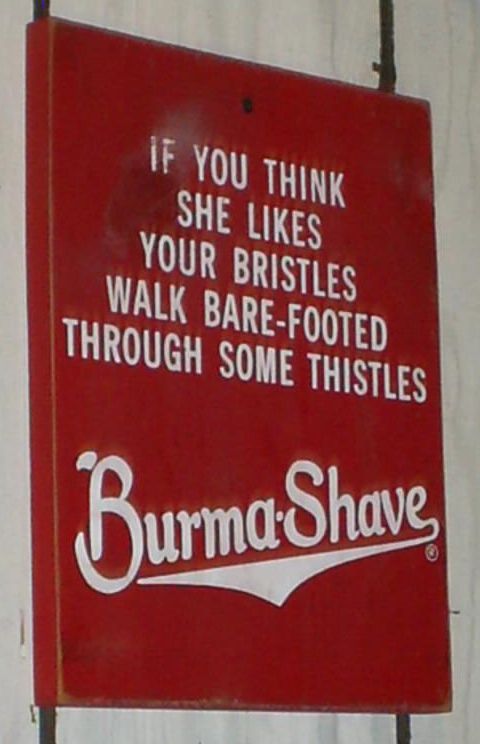 Later, many of this company's signs had to do with traffic safety - with a humorous twist, of course. We'll never know how many lives were saved as a result of this tongue in cheek humor!

They soon became known as part of the Americana landscape - good for a laugh, sporting a unique marketing angle, and throwing in some traffic education in a subtle way at the same time.

You'll find links to many more of these jingles at the bottom of this page - be sure to check out all of them!

This could be your secret weapon to educating your kids to some traffic safety tips - while teaching them a history lesson at the same time! If you weave the "good old days" you grew up in with a story of these signs - I'm pretty sure you'll have their attention!
Go from Burma Shave to Shaving Ads

More Hilarious Slogans

Sign History

Silly Shaving Americana Ads

Americana Home Page