Burma Shave Jingles:
Traffic Ticklers
Burma Shave jingles not only sold a premium shaving product, they also gave a "word to the wise" in a very funny sort of way.


Here are some of these jingles - traffic style!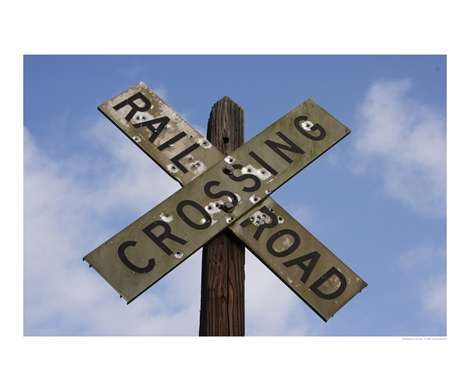 TRAIN APPROACHING
WHISTLE SQUEALING
PAUSE - AVOID THAT
RUN DOWN FEELING
BURMA SHAVE


THIS WILL NEVER
COME TO PASS
A BACKSEAT DRIVER
OUT OF GAS


AT INTERSECTIONS
LOOK EACH WAY
A HARP SOUNDS NICE
BUT IT'S HARD TO PLAY


APPROACHED A CROSSING
WITHOUT LOOKING
WHO WILL EAT
HIS WIDOW'S COOKING?


GUYS WHOSE EYES
ARE ON THEIR BACKS
GET HALOS CROSSING
RAILROAD TRACKS


CATTLE CROSSING
MEANS GO SLOW
THAT OLD BULL
IS SOME COW'S BEAU
BURMA SHAVE


DON'T TAKE A CURVE
AT 60 PER
WE HATE TO LOSE
A CUSTOMER


HE TRIED TO CROSS
AS FAST TRAIN NEARED
DEATH DIDN'T DRAFT HIM
HE VOLUNTEERED


DON'T STICK YOUR ELBOW
OUT TOO FAR
IT MIGHT GO HOME
IN ANOTHER CAR


HE SPEEDED TO
THE RAILROAD TRACK
TO BEAT THE COMING TRAIN
THEY PUT THE PIECES
IN A SACK
BUT COULDN'T FIND THE BRAIN


PAST SCHOOLHOUSES
TAKE IT SLOW
LET THE LITTLE
SHAVERS GROW


HE SAW THE TRAIN
AND TRIED TO DUCK IT
KICKED FIRST THE GAS
AND THEN THE BUCKET
BURMA SHAVE




If you would like to "drive home" the importance of traffic safety to the next generation, why not try some old fashioned Burma Shave Ads to get your message across? I'm sure it would have much more of an effect than the tired warnings they've heard so many times they have already tuned them out.

Try it and see!
Go from Burma Shave Jingles to Burma Shave
B Shave Sign History
More Funny Slogans
Laughable Ads
Americana Home Page