Big Band Music - and Much More!
Live Piano Music for Your Event
Have you ever heard Big Band music pounded out on a piano?
If not, you're in for a treat!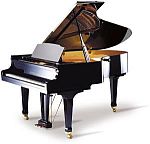 Bill Figley has been playing the piano since he was about 5 years old (for 87 years!) He incorporates a number of styles into his music, including swing, Big Band, gospel, inspirational, Broadway, patriotic, music box, and folk.
~~~~~~~~~~~~~~~~~~~~~~~~~~~~~~~~~~~~~~~~~~~
Bill creates his own arrangements and has nearly 1000 songs
in his repertoire. He typically plays his entire concerts
without a note of written music.
~~~~~~~~~~~~~~~~~~~~~~~~~~~~~~~~~~~~~~~~~~~
Bill, master piano artist, is currently taking bookings in the Columbus, Ohio and the Dayton, Ohio cities and surrounding areas.
But even if you don't live in Ohio, you can enjoy the music Bill plays by purchasing one of his CDs at www.billfigley.com

They're the "next best thing to being there"!


Where Does Bill Perform?
Bill performs in churches, hospitals, assisted living centers, and at various social events including dinner parties and birthday celebrations. He also has assisted in fundraisers for various causes.
Bill has played at numerous locations in both the Columbus and Dayton areas, as well as other locations in Central Ohio, and is well loved wherever he goes. He has, on many occasions, been able to pull up an old song from memory, much to the delight of the person who requested it. In some cases, they had been unable to find anyone who could find or play the song!
Piano Concert Program Selection
Bill offers an incredibly wide selection of piano programs, including customized concerts.
It would be impossible to list all of them, but here are several options:
Folk Music


Patriotic Music
(including marches)


Gospel Music


Big Band Music


Broadway Musical Hits


20s and 30s music


40s and 50s music


Love Songs


Christmas Programs


Holiday Themes
(including Valentine's Day, St. Patrick's Day, Easter, Memorial Day,Thanksgiving, etc.)


Seasonal Concerts

(Winter Blues, Spring Music, Summer concerts, and Autumn Melodies)


Country Music
Bill even has programs based on color and girls names, among many others!


In addition, Bill always interacts with his audiences, telling short anecdotes that relate to the music, and asking for special requests as well.


His high energy, amazing talent and friendly demeanor will leave you wishing the concert could continue long after your event is over!
---
Want to schedule a concert or ask for more details?
Then please click here to get in touch with Bill.
---
The remainder of 2019 will fill up fast, so please get your request in as soon as you can!



A Concert with Bill Figley is truly a place
where Music and Memories Meet.
Bill's Bio

Contact Bill for Concert Information

Go from Big Band Music Live to Americana Music Home