Frank Sinatra Songs
What made Frank Sinatra songs so incredibly unique and memorable?
Here are some Sinatra sentiments observed by another musician:
Sinatra Sentiments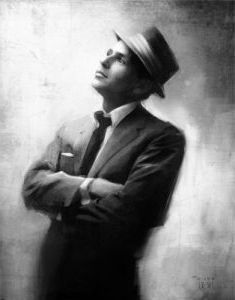 Just below is an incredible rendition of "My Way" sung by two of the most phenomenal singers ever - Frank Sinatra, the Crooner, and Luciano Pavorotti, the riveting operatic master. Listen for some inspiration!
Click here for more characteristics of Frank Sinatra songs.
Frank Sinatra's music stands in a class by itself. No singer/artist before or since has a signature anything like that of Sinatra's.
You might say that Frank became famous by going "against the grain" - he took risks, and did what few singers were willing to do. And boy, did it pay off!
He took risks and differentiated himself from your everyday, run of the mill singer. This gave him a unique message and a much-loved reputation. Well done, Mr. Sinatra!
Go from Frank Sinatra Songs to Big Band Songs

Americana Music and Memories Home