Annie Get Your Gun!
Top Western Broadway Hits
Annie Get Your Gun was a musical based on the life and loves of Annie Oakley,a famous western cowgirl in real life who was a crack shot with a rifle.

This stage play and movie were played in 1946, and all songs were written the same year.
All lyrics and all music was composed by Irving Berlin.
The movie starred Howard Keel and Betty Hutton.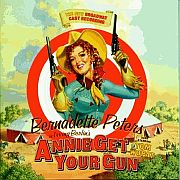 Annie Song Hits
The Girl That I Marry

Doin' What Comes Nattur'lly

They Say It's Wonderful (or They Say That Falling In Love Is Wonderful)

There's No Business Like Show Business

Anything You Can Do

Oklahoma Musical
Oklahoma was another outdoor Western Broadway musical that became a huge hit. It was a western, yes, but with an upbeat plot and magnificent music, unlike other common westerns.
All of the popular songs from this production were composed in 1943.
The movie starred Howard Keel and Shirley Jones.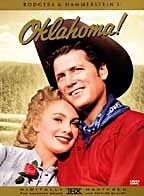 Broadway Hits from Oklahoma Musical
Oklahoma! (Theme song)

Oh, What a Beautiful Mornin'

Surrey With The Fringe On Top
Jed Is Daid (A pathetic little song pertaining only to one character)

People Will Say We're In Love
Both of these Broadway Musicals with a Western flair will entertain you for hours with their unique story lines and upbeat humor.
Go from Annie Get Your Gun to Best Broadway Musicals

Return to Home Page