South Pacific Musical:
World War II Romantic Story
The South Pacific Musical was one of the best loved Broadway musicals of all time. It was produced in 1949 and was produced and directed by Joshua Logan. Richard Rodgers wrote the music, and Oscar Hammerstein II supplied the lyrics.

Of the scores of Broadway musicals, South Pacific was the only one ever to win all four of the Tony awards for acting - and this production won a total of 10 Tony awards and the 1950 Pulitzer Prize for Drama!
Tales of the South Pacific
This musical and subsequent movie (released in 1958) was loosely based on the Pulitzer Prize-winning novel Tales of the South Pacific written by James Michener. The actual production blended several of the characters together to create a single storyline.

The production ran for over 5 years and was outrageously popular.

The setting involved the U.S. Navy stationed in the South Pacific during World War II. The production was filled with romance, danger and intrigue.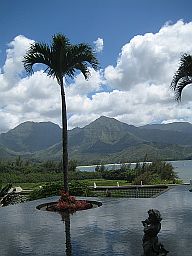 The South Pacific production also dealt sensitively with the subject of racial prejudice. One of the main characters falls in love with a Vietnamese girl and struggles with whether to follow his heart or his upbringing when he thinks of marrying her.

The story line is unpredictable yet quite engaging. No doubt you will be surprised and perhaps even amazed at some of the twists and turns throughout the movie.
Broadway Tunes from South Pacific
Following are several Broadway show tunes that emerged from this classic musical production:

South Pacific
Some Enchanted Evening
Bali Ha'i
Younger Than Springtime
I'm Gonna Wash That Man Right Outta My Hair
I'm in Love With a Wonderful Guy
Go from South Pacific Musical to Best Broadway Musicals

Return to Home Page