The Sound of Music:
A True War Story of Inspiration
The Sound of Music musical is arguably the best loved classic movie/musical of all time. This true story, set in the era of World War II, captures the essence of faith, fear, loneliness, love, and the willingness to risk life to maintain freedom.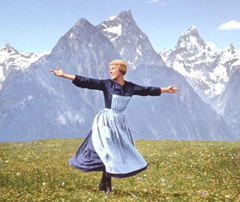 Children of all ages are drawn to the musical because of the large number of young actors (who are a vital part of the show) and the appeal of the music.
There is also an element of teenage romance and conflict, and adults are mesmerized by the lead roles - played by phenomenal actors who fall in love under the worst of circumstances.
If you have never seen this movie, or if it has been a long time since you viewed it, I encourage you to sit down and share it as a family. Its story line of inspiration and perseverance is applicable to any area of life.
It may even cause you to look on your freedom (and those who fight for it) with increasing gratitude.
Broadway Hits from this Musical
All of the songs from this extraordinarily popular musical were well known and loved. The musical opened in 1959 and all of the songs were written in the same year.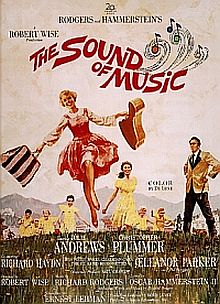 The Sound of Music (Theme Song)

Climb Every Mountain

The Lonely Goatherd

Do-Re-Mi

So Long, Farewell

Maria

Sixteen Going On Seventeen

I Must Have Done Something Good

Edelweiss

My Favorite Things
Richard Rodgers composed the music.
Oscar Hammerstein II wrote the lyrics.
Julie Andrews and Christopher Plummer played the lead roles of the father and the governess.
Probably the least well known of the above songs was
I Must Have Done Something Good, which was played chiefly as background music throughout the production.
Set aside a few hours soon to view this grand old classic
again - you'll be glad you did!
Go from The Sound Of Music to Broadway Musicals History

Best Broadway Musicals

Broadway Musicals A - F