Irish Symbol: The Claddagh Ring
Among many Irish folklore traditions, an Irish symbol known as the Claddagh ring is one of the most popular.

The ring is thought of as an Irish symbol of love dating back to the sixteenth century.

The ring symbolizes the trinity of Love, Loyalty and Friendship (or Faith) pictured by a crowned heart encircled by a pair of delicate looking hands.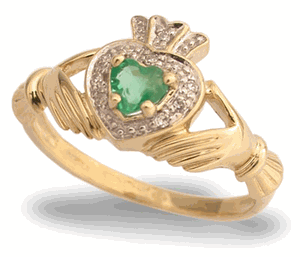 In the seventeenth century, it was fashionable for friends or lovers to exchange the ring depicting the depth of their commitment to one another.

The heart symbolized love, the clasping hands stood for faith or friendship, and the crown signified loyalty or fidelity.
The Meaning of the Claddagh Ring
There were numerous explanations for the meaning of the symbols on the ring.

One explanation of the ring's design correlates to the meaning of the shamrock - one of the earliest symbols of the Holy Trinity observed among the Irish people.

The crown symbolizes God the Father, the left hand God the Son, and the right hand stands for God, the Holy Spirit.

There were also romance stories associated with the Claddagh ring, particularly one concerning Richard Joyce (or Ioyes) of Galway.

According to one story, he was captured by pirates the same week he was to be married. Supposedly Joyce was sold to a wealthy goldsmith who trained him in the craft. Richard Joyce then made a ring to remind him of his lost love.

When William III came to power and took the throne of England, Joyce was released (1689) and chose to return to his hometown of Claddagh where he found his true love had never married.

They wed, and then he set up a shop as a goldsmith. According to some, the earliest Claddagh rings that have been traced bear the symbol of an anchor (standing for hope) and the initial of his name, R.I. (Richard Joyce/Ioyes).
Rings in Royalty
This Irish symbol, the Claddagh ring, was reportedly the only ring created in Ireland that was worn by Queen Victoria, and later by Queen Alexandra and King Edward VII.
How the Irish Claddagh Ring is Worn
Worn as a wedding ring for 400 plus years by the fishing community of Claddagh and the surrounding area, it was also called a "faith" ring connected to Christian marriages in the 6th and 7th centuries.
---
Today, the Claddagh ring is not so much worn as a wedding band, but is commonly worn across Ireland and is given as a gift of love and affection, respect and loyalty.
---
For those interested in a book written exclusively about the history and meaning of the Claddagh ring, it can be located in the British cataloguing library: Joyce, Cecily. Claddagh Ring Story, Galway: Cecily Joyce. 88 pages, 1990.
Go from Irish Symbol to Irish Folk Songs

Irish Folk Music

Irish Names

Americana Home Page