Irish Names
Irish names are common in the U.S. - how many of these do you recognize? Or perhaps you even own one of them!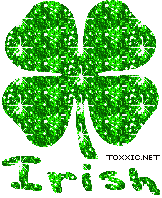 Check out the following poem listing a number of Irish names.
Enjoy your St. Patrick's day celebration, and
"Top o' the mornin' to ya!"
"They're the Irish"
An Irish Poem
There's Irish all over the American scene,
There's McGinty, O'Leary, Malone and McQueen;
And many an Irish girl's name with appeal-
Like Mary, and Annie and Peggy O'Neill -

Now McTavish, MacPherson, McBride and McSheen,
With Murphy and Rooney, would make quite a team
Don't Houlihan, Harrigan, Hennigan rule?
Right beside Maggie and Bonnie O'Toole?

Now names like Flayerty, Flynn and O'Malley-
And McBean and O'Brien, too many to tally;
And first names a'plenty, we're waitin' to see-
Like Paddy, and Katie and Annabel Lee.

Yes, many a proud Irish name takes its place-
Enriching our nation and lending it grace.

Composed by Bill Figley
2-19-05


Is your name of Irish descent? How many "Irish" folks do you know?
They don't have to have red hair or a fiery temper to be Irish, you know!
The Irish have given us a rich heritage - from Celtic music to red hair to 4 leaf clovers, to Saint Patrick's Day celebrations, our world is all the richer because of the gifts of the country of Ireland.
And don't forget the limericks!
What do you love about Ireland or the Irish? Be sure to let us know
here , and you may just get your favorites published on this site at a future time.
Also, be sure to check out our other Irish pages below.
Go from Irish Names to Irish Folk Music





Irish Immigrants





Irish Folk Music





Irish Folk Songs





Claddagh Ring





Americana Home Page