Irish Folk Music:
Grab Your Fiddle & Dance A Jig!
Irish folk music has noted a surge of popularity since the movie "Riverdance" was released. The Irish are known for their dancing, celebrating and singing style of entertainment.
Do you remember as a child singing about Mrs. Murphy's Chowder? These Irish lyrics are outrageous, which makes them classically funny to every child, and the music is just - well, "dance-able!"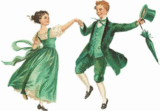 The polka and the jig (of course) are credited to the Irish.
Irish tunes are known for their simple harmonies, upbeat tempo, and quaint folk music instrumentation.
Every holiday or special event calls for a celebration of music - whether a wedding, All Saint's Day, or a birthday party. Music is a dynamic part of the everyday life of the Irish.
Some believe that many of the old fashioned tunes popular in the U.S. even today, came out of the countries of Ireland and Scotland. The music was brought overseas by traveling immigrants.


Irish Folk Songs
Celtic music had its origins in Irish and Scottish music.
Irish folk music employs a large number of folk music instruments including percussion instruments, fiddle and bow, flutes, and tin whistles, among others.


The ability to laugh, dance, sing and celebrate
is the rich heritage of the Irish!
Go from Irish Folk Music to Irish Folk Songs

Irish Names

Irish Immigrants

It's a Long Way to Tipperary

It's the Same Old Shillelagh

Americana Home Page